Another one-of-a-kind seasonal creation; roasted pear and manchego STAR RAVIOLI. Locally grown colette pears are roasted to concentrate and bring out that late summer perfect pome flavor. Pears are often combined with cheese and we think we found a perfect fit with ANTARES from COSMIC WHEEL CREAMERY. Antares is a bold, farmstead, cows milk, 12 month aged manchego with a decedent texture and finish. Antares is the brightest star in the scorpio constellation and is often called the "heart of the scorpion" so Rachael topically chose the star ravioli and made it black because we are so spooky. A must with BROWN BUTTER & SAGE.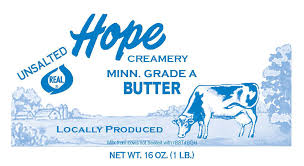 We love using HOPE CREAMERY butter. From their website; "While most butter today comes from modern creameries that are automatically controlled industries, we still run a traditional creamery with skilled butter makers so you get the very best butter possible."
Cosmic Wheel Creamery
We love supporting farmstead cheese. Farmstead means that the cheese is made from milk collected from animals on the same farm. Add a cool vegiatable farm to benifit from the cows raised and you have the super cool and sustainable system at Cosmic Wheel at Turnip Rock Farm in Clear Lake, WI.
Directly from their website:
Cosmic Wheel Creamery lives at Turnip Rock Farm.  Our creamery is tied into our whole farm ecosystem.  Our 17 cows provide fertility for our Organic vegetable CSA and the whey leftover from cheese making provides a from-the-farm food source for our heritage pastured pigs.  We are working toward a truly sustainable farm that produces healthy, beautiful, and distinctive food.
Spooky black star ravioli filled with roasted local colette pears and Cosmic Wheel Creamery's manchego; Antares.
Our hand-cut tagliatelle is made with Graise Farm eggs and Baker's Field heritage grain wheat. A perfect long noodle.
Local beets, fresh-milled Baker's Field heritage grain red fife & semolina are extruded into beautiful red macaroni.
Our signature red sauce. Made with organic tomatoes, garlic, basil and olive oil. Pomodoro is great with most pastas!